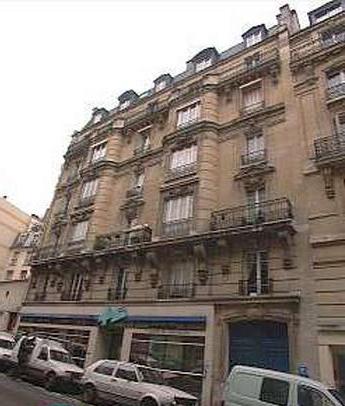 On Friday morning this lovely building, in the 10th arrondissement of Paris, will be my home for a week. It's in a quiet neighborhood, near a still-working canal, (below) and about a mile or so from most of the museums I want to go to.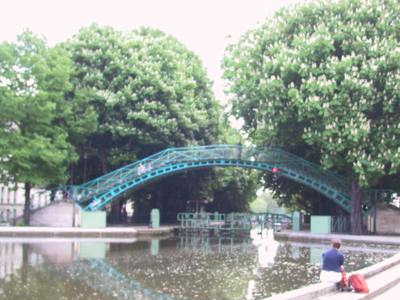 The distance between the apartment and our intended destinations is, suddenly, critical because, as of midnight tonight, there's going to be a transport workers strike, so there will be no metro or trains service at all. We'll be doing LOTS of walking and some taxi taking. Luckily I lived in New York for a while, so I can fight off the most determined cab stealer, French or otherwise. This is the bedroom where I'll rest my aching feet at the end of the day. Oh, c'est jolie!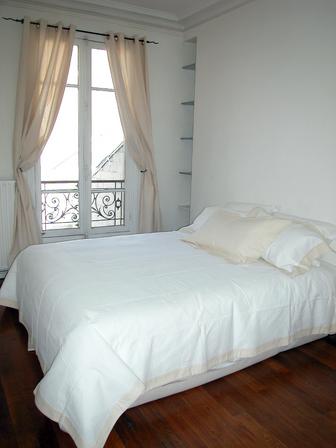 The last time I went to Paris was on my honeymoon, 23 years ago. The new husband and I stayed in a lovely little hotel on the left bank. It was January and as we wandered the streets, it snowed. We ate cassoulet at a neighborhood brasserie, and visited my husband's French relatives, one of whom was a famous surrealist painter. It was all impossibly romantic.
This time I'm going with my 81 year-old mother, so romantic it will not be. But we are going to have a blast. We've been going to museums together, talking about art, making each other crazy, and laughing at (and with) each other since I was tiny. So we'll do that in Paris too and it will be wonderful fun.
I've packed my walking shoes, and I'm brushing up on my French - "Je sais que les travailleurs n'aime pas M. Sarkosy!" I've been humming the Marsailles all day and doing the can can (only in spirit, because You don't want to see me throwing up my skirts in real life). Wish me a bon voyage or wish you were coming with me! Either way, Hurrah! I'm going to PARIS!!!!!!