I'm back in the land of the functioning, though I haven't yet made it to clear-headedness yet. Still some fog between the ears. Thanks for all your nice notes. So early last week, while I was lying on the sofa completely viral and miserable, my oldest daughter (Thing 1) comes over to me. She looks around at the hurricane-like devastation caused by mom being sick for a week or so, and says, "When I grow up I'm going to keep my house very, very neat." I rolled my eyes and said, "Well, good for you. Now why don't you help out by picking up some of this mess!" But I really, really wish I'd had one of these to give her.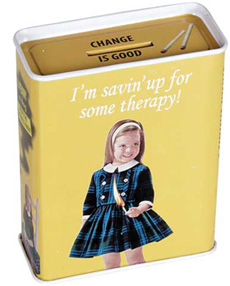 I could have added, "This will help you on your road to recovering from growing up in a loving but less than perfectly tidy home!"
Teens. Can't live with 'em, can't legally murder them. Anyway, I really love these banks. They're available at
fredflare
.